Before: Unclear on the concept: WWF to hand out "Hotter than I Should Be" T-shirts to people facing wind chills in the low 40s F?
the first 30 people who sign up as organizers (agreeing to recruit 2+ of their friends to join them) will get a free "Hotter Than I Should Be" WWF t-shirt!...Strategically placed videographers will capture your moment. We'll email you when the video goes on the Web!
After: Advocates Gather in Washington to Raise Awareness About Climate Change | Press Releases | WWF
A flashmob of more than 100 advocates gathered in Washington DC's historic Dupont Circle on Thursday afternoon to raise awareness about climate change and our need to prepare for its impacts.

Advocates "froze" for several minutes, each holding an open umbrella to remind the public that more extreme weather events will be the new norm if our nation fails to meaningfully address climate change.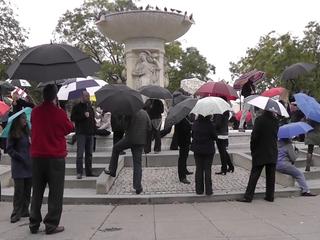 1. That doesn't look like "more than 100" people.
2. If it's so hot outside, why are the people dressed like that?
3. Where are the "Hotter Than I Should Be" T-shirts?